Download the white paper to learn how your organisation can simplify operations and improve efficiency by investing in HCI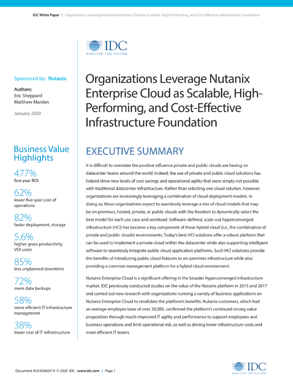 Nutanix is the pioneer of hyper-converged Infrastructure (HCI). Its HCI software, cloud services, and software-defined storage remove the complexity of managing public and private clouds by providing a single interface, on any app, in any location.
In 2018, Nutanix was named the top of the current offering, in terms of market presence and product strategy, by Forester Wave, and in 2019 was declared the market leader in HCI by Gartner, who granted it with the highest score in execution and vision in the leader's quadrant.
Nutanix offers enterprise organisations a scalable, high-performing, and cost-effective infrastructure foundation.
In this white paper from IDC, find out how your organisation can benefit from:
A 477% average 5-year return on investment

62% lower costs of operations after 5 years

A 71% reduction in the management of multi-cloud operations

A 94% reduction in unplanned downtime

An increase of 82% in the speed of storage deployment

9-month break even from the initial investment

Complete the form to download the white paper and learn how HCI can help IT leaders break free from the confines of legacy systems.