How Smarter IT Services can Support Retailers in a Challenging Economic Environment.
It is tough out there on the High Street – by just about any measure. Changing consumer habits, driven primarily by the popularity of online shopping, means bricks and mortar retailers are seeing reduced footfalls, which in turn is resulting in lower profits.
This financial pressure is pushing many retailers over the edge. The first half of 2019 saw a record net 1,234 stores disappear from Britain's top 500 high streets, according to research by PwC, with shop owners continuing to restructure in the face of economic adversity.
The research by PwC also reveals that the number of new store openings actually increased marginally in the first half of 2019, in a sign that lean and agile retailers that have tight control over costs are managing to build their business in spite of the challenging retail conditions.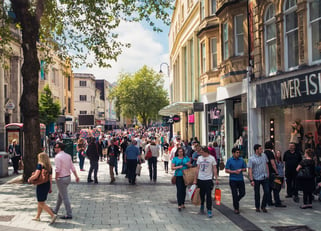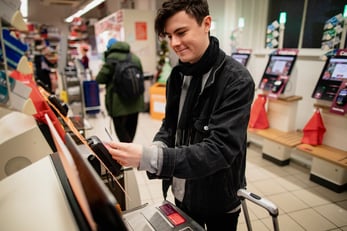 IT Strategy Supports Retail Innovation
How exactly can retailers get a grip on their cost base, giving them a stronger chance of carving out a long-term future? The answer, in many cases, can be found 'behind the scenes', where the upgrade of inefficient systems and processes can have a marked effect on the performance of retail organisations, resulting in better customer service in stores.
IT infrastructure is a case in point. A clear roadmap for the standardisation of disparate, on-premises hardware and software – often found in the retail sector where organisations can have many shops located over a wide area can result in far higher levels of collaboration and communication. This kind of investment can deliver greatly enhanced productivity among employees, giving them the chance to do their jobs more efficiently.
That has most certainly been the case at The Midcounties Co-operative, an organisation with several hundred retail outlets covering a range of products and services such as food, banking, travel, childcare and healthcare. This diverse business had, over two decades, been built on a broad array of technologies and applications that were restricting efficiency and collaboration across the organisation as well as complicating overall IT operations.
A decision was made to develop a new IT strategy that introduced greater standardisation while continuing to provide individual business units with the specific solutions they required. The strategy was developed around a simple statement – 'to be as standard as possible and as diverse as required', which it was thought would streamline IT operations, giving a more transparent structure and laying the foundation for improved efficiencies.
CDW Delivers a Profitable Advantage
The first task was to re-think the way that Microsoft licensing packages were acquired, used and renewed. Previously, this process had been done on an ad-hoc basis, which required in-depth observation to ensure the necessary arrangements were in place. This piecemeal approach to licensing failed to make the most of economies of scale that The Midcounties Co-operative, as a £1.4 billion organisation, should have been able to secure.
In order to modernise, The Midcounties Co-operative enlisted CDW to conduct a full review of its IT estate and develop a new way forward. Drawing from their expertise as a Microsoft Gold Partner with an established status within the Microsoft community, CDW proposed a new Enterprise Subscription Agreement (ESA) that would provide comprehensive coverage and compliance.
CDW consulted with Microsoft to establish the most cost-effective solution, based on an assessment of usage and bringing all previous licences under one single agreement – providing the IT team with much clearer visibility of software resources. Moreover, the added value of the new approach was that The Midcounties Co-operative could also access the latest apps and services, as well as establishing an upgrade path for future evolution.
Modernisation of working practices also came into view. With the use of Microsoft 365 and an associated VDI solution, The Midcounties Co-operative introduced agile and flexible working options for employees needing to access services remotely. In parallel, collaboration tools have been scaled up with the rollout of a new SharePoint platform. Future plans to harness Microsoft Teams is also in progress.
The introduction of greater flexibility was underpinned by new security measures, including multi-factor authentication. Working with CDW, The Midcounties Co-operative has strengthened data encryption with Microsoft Azure Information Protection and introduced Microsoft Intune to provide non-intrusive security for mobile devices with single sign-on.
Enabling £2 Million Cost Avoidance
It is fair to say that the new IT strategy has had a positive impact on The Midcounties Co-operative. Cost avoidance from the more streamlined approach to software licensing totalled a staggering £2 million over the three years of the agreement. Meanwhile, standardised deployment of Microsoft 365 means that all employees can interact seamlessly, sharing documents safely and fast. The Midcounties Co-operative has introduced more agile and flexible working patterns, which has helped to boost morale. Indeed, a survey measuring worker satisfaction showed scores of over 75% in areas such as preparation and support.
What this shows is that a well-structured, future-proofed IT strategy can have a tremendously positive effect on a retail organisation - leading to improved efficiencies and increased profits. There's no doubt that economic uncertainty on the High Street is likely to remain however, CDW is doing all it can to help organisation's stay fit for the future.
To learn more about how CDW has helped The Midcounties Co-operative modernise the way they work, watch our video case study below or download a copy of the written case study - Download Case Study.
For any enquiries, please contact CustomerReference@uk.cdw.com.