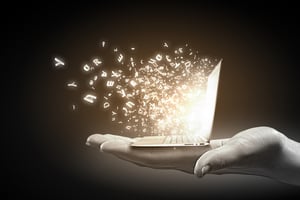 Not all workstations are created equal. What you'll find under the bonnet varies by make and model. And of course your mileage may vary depending on whether the workstation is configurable—and how many configuration options you can choose from. Here are 10 features you'll want to look for.
1. Powerful processing
Derived from server processors, workstation processors are typically optimised for workstations, providing faster response times and better graphics, as well as application certification such as for CAD and Adobe systems. Look for a workstation with the flexibility to meet the processing needs of your specific workloads. One mid-range HP Z6 G4 model workstation, for example, offers 17 choices for the primary processor, from the Intel® Xeon® W-2102 Processor (2.9 GHz, 8 MB cache, 4 core) to the Intel® Xeon® W-2195 Processor (2.3 GHz, up to 4.3 GHz w/Turbo Boost, 24.75 MB cache, 18 core)1.
2. GPU
Whether you're sending financial reports or a feature film to the display, your workstation has to support the visual output you need. With a discrete or integrated GPU optimised for workstations, the CPU doesn't have to work as hard to process screen output. In fact, the GPU can take some of the load off the CPU, accelerating processing even more. It can also better handle parallel computing problems.
3. Ample memory
High-performance applications often create large memory footprints. Your workstation should give you the flexibility to meet the needs at hand, be it 4 GB of memory in an entry-level tower or 768 GB in a high-end machine.
4. ECC RAM
Error-correcting code (ECC) memory is a must-have in order to provide stability for workstation apps that rely on high-value data. ECC RAM serves as an insurance policy, protecting against system crashes and data corruption by detecting and proactively correcting single-bit memory errors before they have a chance to wreak havoc.
5. High-capacity storage
Workers in every major industry are buried in gigantic files, running financial models, designing aerospace components, manipulating 3D images and performing other data-rich tasks that were once the domain of multiple PCs or servers. Your workstation should provide the TBs of storage capacity that heavy workloads often require—and give you the headroom to expand.
6. Speedy interfaces
Advanced interface technology like Thunderbolt™ 3 optimises workstation performance and boosts user productivity. Thunderbolt™ 3 is 8x faster than USB 3.0, and it provides 4x more video bandwidth than HDMI 1.4. It connects multiple high-res displays, docks and high-performance data devices through a single, compact port—all whilst charging the system2.
7. Enviable visuals
When graphics are driving your workstation purchase, look for models that support next-generation PCIe Gen3 pro graphics cards from NVIDIA® and AMD. Need multiple graphics processors? Eight displays? One billion precision colours? Today's workstations can put those resources and more in your users' hands.
8. RAID
Workstations offer multiple RAID options to store and process your data. Look for RAID options for multiple secondary HDDs or SSDs to process your data (RAID 0 striped array), for mirrored drives that provide failover to each other (RAID 1 mirrored array) or for a combination of the two (RAID 10 striped/mirrored).
9. Robust components
Workstations are built to a higher standard than traditional PCs, providing not only around-the-clock reliability but long-term durability for years of trouble-free service. Starting with the motherboard, workstations are designed for heavy use. Yours should include robust components, including sophisticated cooling mechanisms, hot-swappable drives and redundant power supplies and fans.
10. The perfect form factor
Configuring a workstation now starts with identifying the best form factor for the purpose. Choose the traditional tower that you can load with drive upon drive, a small form factor that you can hide behind a display on a cramped desktop, or a compact but beefy laptop workstation that your mobile users can take anywhere.
"The best workstations can handle any application you throw at it", say the editors at TechRadar . Indeed, a workstation can accelerate performance from the instant the system starts to boot up. Today's workstations provide unprecedented flexibility, allowing you to configure the ideal workstation for your users.
CDW recommends HP Workstations. Windows 10 Pro means business.
For more information contact your CDW Account Manager or email HP@uk.cdw.com.
Author - Victoria Currie, HP Sales Specialist
---
1 https://store.hp.com/us/en/mdp/desktops/hp-z4-workstation-3074457345617221670-1
2 https://www.intel.com/content/www/us/en/io/thunderbolt/thunderbolt-technology-general.html
3 https://www.techradar.com/news/top-10-best-workstations