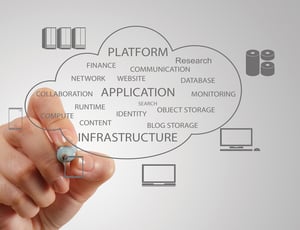 Consistent patterns are revealing how executives establish an IT launchpad that accelerates cloud migration and digital transformation. In evaluating its enterprise customers, Masergy found congruent themes that expose a three-step process for innovation readiness:


Establish agile IT infrastructures to support global network connectivity, cloud-first strategies, and workforce mobility
Broaden cloud security defenses and accelerate the pace of threat detection and response
Safely experiment with emerging technologies
STEP 1: Establish Agile IT Infrastructures
Take a look at Gartner's Trends Impacting Infrastructure and Operations for 2019 and you'll see that enterprises are seeking network agility. Why? Because it reduces the complexity of patchworked IT systems and empowers IT environments to better support a growing number of cloud services and applications. In fact, executives commonly see agility as an underlying enabler for digital transformation:
Cloud Migration: Flexible networks maximize available bandwidth and prioritize critical applications, empowering cloud-based services that keep employees focused on core competencies
Global Network Connectivity: Agile networks improve application delivery worldwide, increasing network uptime, and business continuity
Workforce Mobility: Agile networks support real-time voice and video communications, fostering productivity and collaboration via cloud-based technologies
When revitalizing networks for the cloud, executives commonly looked for:
Deep Network Visibility: Quickly evaluate the performance of each application and location, see real-time data, search a full history of network activity, and make point-in-time comparisons across multiple locations
Ease of Management and Self-Service Control: Make performance optimization adjustments on the fly using an online portal and make connectivity changes so the network adapts to transformative change
Access/Vendor Agnostic Solutions: Mix and match connectivity types and last-mile vendors in order to better balance budget requirements
STEP 2: Broaden Cloud Security Defenses
Masergy found that while some executives take on network agility and cloud security upgrades simultaneously, others find it easier to not take on too much at once. Regardless, leaders backed by advanced networks could more easily pivot to cloud security. Most often, their improvements aimed to:
Secure IaaS/PaaS environments: Shift their security focus to the operating system, software stack, and data--in response to shared security models
Manage the risk of all cloud apps: Add security capabilities and analytics for threat detection and response--Cloud Access Service Broker (CASB) solutions were often used to more effectively manage hundreds of cloud apps
Widen the coverage of security protections: Expand perimeter-focused strategies with 24/7 managed detection and response services that accelerate reaction time
STEP 3: Safely Experiment with Emerging Technologies
Masergy reported that leaders often described steps one and two as prerequisites for advanced transformation. Phase three is marked by cloud migration maturity and confidence in the ability to safely work with emerging technologies including IoT and artificial intelligence. At this stage, IT teams leveraged network flexibility to easily "spin up" and "spin down" virtual environments dedicated to innovation pilot programs.
Key IT requirements for IoT and AI-based innovation included:
Agile and limitless network segmentation capabilities to control security risks
Centralized network control and application-based routing for rapid performance optimization
Machine learning, behavioural analytics, network visibility, and managed security services for monitoring an increasing amount of network traffic generated by connected devices
How Teknion became an IoT disruptor is just one example of success. The office furniture manufacturer used its software-defined network to enable data-driven decisions that quickened its speed-to-delivery. But more importantly, the IT launchpad paved the way for office occupancy sensors and big-data services, which are now expanding sales and shifting the company toward a service-based business model generating ongoing revenue.
CLICK HERE to download our free essential guide to the Cloud.