Managed cloud services act as a flexible and scalable solution for organisation's embarking on a process of digital transformation.
The dual-pronged issue of ageing on-site IT infrastructure within an organisation that is encountering rapid growth can be a hugely difficult problem to solve.
In such instances, organisations often find themselves struggling to keep legacy computer systems running effectively, having to resort to short-term fixes such as updates and patches to solve any technical issues that might occur. This fragmented approach to the provision of IT services places great strain on in-house IT teams, who are acutely aware that any subsequent downtime can have significant effect on the bottom line.
Eventually, IT Managers arrive at a fork in the road. Do they invest heavily in new on-premise servers and other hardware, while having to carefully weigh up factors such as cost, value for money and potential return-on-investment? Or, do they look for more flexible ways of providing IT services as a means of supporting business growth?
Increasingly, organisations are finding that migration to cloud services, outsourced to a trusted managed services partner, can provide the answer to many of these difficult questions. Cloud delivers significant advantages around agility, scalability and predictable costs, with such platforms releasing in-house teams from the burden of maintaining on-site equipment. This allows IT departments to concentrate on value-adding projects such as the development of new apps and services that help underpin digital transformation.
Cloud services also allow organisations to make the most of state-of-the-art infrastructure, delivering the very highest levels of resilience and security, while providing IT Managers with easily accessible real-time data on performance. In short, the cloud can offer a compelling solution for an organisation hindered by ageing IT at a time of rapid change.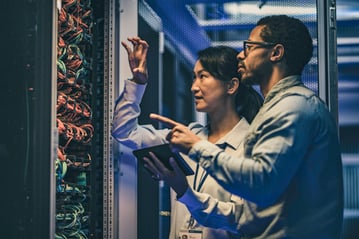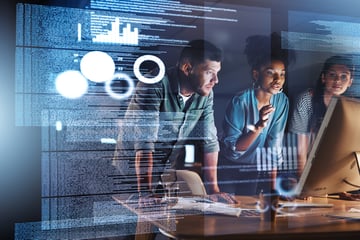 Looking to the Cloud
Let's look at what this means in the real world, with accountancy and tax firm haysmacintyre acting as an excellent example of an organisation that has used cloud migration as a means of overcoming IT limitations. Having sustained rapid growth over several years, the organisation was required a move to a larger office but faced tough decisions about what to do with its on-premise infrastructure. The existing infrastructure - which had been in place for several years - was complex, burdensome and lacked a fast-acting form of disaster recovery. Moving to new premises was an opportunity to either build a new comms room to accommodate upgraded hardware or to create a more modern IT environment that could be quickly scaled to meet future expansion plans.
In this case, a decision was made to migrate to a managed service via CDW's own cloud platform, ServiceWorks, with full disaster recovery, back-up facilities and proactive monitoring. With uptime and business continuity a key driver, CDW implemented Cisco Meraki as the firm's network infrastructure to support the link between hardware and software and thereby reduce exposure to risk. The cloud-based network management system enables both the wired and wireless estate to be controlled from a single dashboard, simplifying the complexity of managing the critical processes.
Another crucial part of the solution was Citrix Virtual Desktops. This customisable Virtual Desktop Infrastructure solution allowed employees at haysmacintyre to enjoy all of the trademark features of a traditional Windows desktop experience, while also providing secure access to sensitive data, efficient remote working and simplified infrastructure management.
Additionally, to leverage the possibilities offered by CDW's cloud platform, ServiceWorks, employees and partners were equipped with compact and powerful Lenovo devices with Windows 10 to enable more flexible working. Featuring the Skype for Business app as well as a host of other collaboration tools, the new devices helped streamline internal communication and enabled better cooperation within the growing organisation.
Realising your Digital Vision
It was a similar story at Estuary Housing Association, an organisation that was also being hampered by ageing IT equipment at a time of rapid growth. Estuary Housing Association serves every district in Essex, as well as three outer boroughs of East London and the Suffolk Coastal District, managing more than 4,500 properties and providing care and support services to meet local needs. The IT infrastructure was unreliable and costly to maintain, impeding performance and stopping the organisation from driving through a new digital vision.
There was an explicit requirement for a strategic integrated solution that would address the two needs of Estuary Housing Association: firstly, establishing a more stable IT platform with the scope to be supported efficiently, and secondly delivering greater flexibility to enable the provision of new features and services in the future.
After an extensive procurement process, ServiceWorks was identified as the best possible option. Importantly, CDW's own hosted cloud service is underpinned by three advanced data centres which enable ultra-secure delivery of IT services. Estuary Housing Association felt that by moving to this platform, it could seamlessly transfer services from its old infrastructure to the new environment, without incurring the cost and complexity of reshaping apps and software services from a full public cloud migration.
Customer support was an essential part of the arrangement. CDW's specialist team of Solutions Architects brought significant technical understanding to the development of the new environment. The ServiceWorks solution provided Estuary Housing Association with on-demand capacity, enabling them to scale their infrastructure up or down with predictable economics. Looking to the future, the association also gained an ability to quickly deploy new apps or services by adding virtual machines based on a simple rate card.
Cloud Migration Made Easy
Both these instances show that, under the right circumstances, managed cloud services provide the ideal solution to the problem of ageing infrastructure at a time of growth. The good news is that migration to the cloud needn't be complicated or time-consuming. Full migration can be achieved in just a matter of weeks, following three simple steps: assessing the IT existing environment, building an improved solution based on ServiceWorks, and using it to deliver competitive advantage. At every stage in that development process, CDW is an experienced partner who can be trusted to deliver.
To read more about how CDW has helped haysmacintyre and Estuary Housing Association seamlessly migrate to the cloud, download our case studies below:
Download haysmacintyre Case Study.
Download Estuary Housing Association Case Study.
For any enquiries, please contact CloudEnquiries@uk.cdw.com.

Carl Lawton - Director, Cloud Services & R&D at CDW