Device-as-a-Service (DaaS) means medical teams can benefit from the more flexible provision of IT equipment such as desktops, laptops and other mobile devices.
There's little doubt that the modern healthcare environment has been boosted by the adoption of integrated IT, with networked connectivity delivered through desktops, laptops and smartphones enabling medical teams to work in a more flexible and collaborative manner. Yet inevitably over time, as devices age and software become outdated, user problems can occur with greater regularity, impeding productivity improvements.
That was certainly the case recently at Mid Cheshire Hospitals NHS Foundation Trust, whose ageing IT estate was causing significant problems among its staff working across three hospital sites in the North West of England. More than half of the Trust's 2,500 desktop devices were over ten years old, and the poor performance meant that employees were waiting around 20-25 minutes to log in each day. The impact of such delay was calculated in a business study at a staggering £942,000 worth of 'unproductive' time.
Furthermore, staff working remotely in the community had been equipped with mini tablets that lacked the necessary functionality for simple inputting of data. This meant that details of appointments were being written on paper, causing an unserviceable surge in demand for a limited number of desktops at the end of the day when they returned to type up their notes. In short, the ageing infrastructure at Mid Cheshire Hospitals NHS Foundation Trust was primary cause of inefficiency, as well as being an immense source of frustration.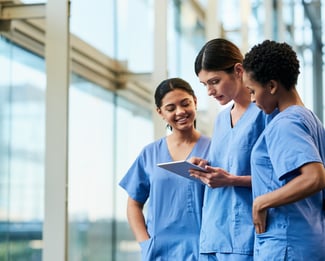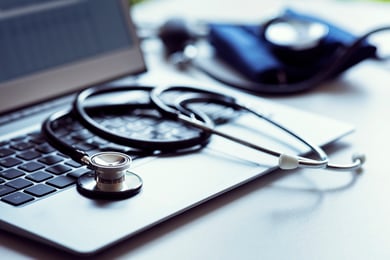 How DaaS Provided the Answer
How can healthcare organisations like Mid Cheshire NHS Trust embrace the benefits of modern IT, while managing the ever-growing number of devices in a cost-effective manner? The answer, in many other cases, comes with deployment of new infrastructure under a Device-as-a-Service solution, an increasingly popular IT management model that outsources the procurement, deployment and support of desktop PCs, tablets, laptops and associated software to IT service and solutions providers such as CDW. DaaS represents a truly flexible approach to IT upgrade, enabling organisations to pay a monthly fee per device based on the number being used and the services attached to them. This effectively removes the burden of purchasing and provisioning hardware and software, allowing users to choose from a unique set of solutions that drive user experience, performance optimisation, productivity and compliance.
Enhancing Efficiency and Productivity
In the healthcare sector, the benefits of DaaS are wide and varied. It improves efficiency by streamlining and simplifying the day-to-day management of devices, while allowing organisations to 'scale up' by deploying new devices quickly and effectively when required. Reliability can be improved by collating data on device usage and performance centrally to address any technical issues before they happen, while costs are more effectively controlled as unexpected bills are eradicated by moving from a CapEx to OpEx model – freeing up funds for investment elsewhere. Ultimately, DaaS maximises resources within healthcare environments, removing the burden on internal teams so that they can pursue value-adding initiatives more closely linked to meeting patient needs.
For Mid Cheshire Hospitals NHS Foundation Trust, the deployment of a DaaS model – designed and delivered by CDW, has had a remarkable impact on its operational performance. CDW helped plan and implement the roll-out of new devices, the migration to Microsoft Office 365, configuration support and the provision of user adoption training. This resulted in a dramatic reduction of log-in times - from 25-30 minutes down to 1 minute or less, meaning that staff can undertake more appointments per day.
Fewer technical problems means that pressure on the Trust's helpdesk has been dramatically reduced, helping the IT team to focus on plans for infrastructure transformation and networking upgrades to enable free WiFi access for patients.
Additionally, to facilitate ongoing support and continue to reduce internal help desk calls, CDW's Managed Services provide a dedicated contact number to support users with any device-related technical issues, with a swap-out service guaranteeing the replacement of faulty devices by the next business day.
Throughout the duration of the Trust's contract, an aligned Service Delivery Manager regularly provides reports, highlighting common issues where tickets are being logged via the Service Desk. Once any issues have been identified, CDW works with the Trust collaboratively to help streamline operations via a continual service improvements plan.
Furthermore, the DaaS model has also delivered improvements in mobility, collaboration and workflow, boosting productivity across the Trust.
Putting Flexibility at the Heart of your Organisation
It's clear that DaaS can act as a powerful solution in the healthcare sector. With a rise in the number of end-user devices deployed and the growing requirement for remote working among medical professionals, DaaS provides a compelling solution when it comes to selecting, configuring, deploying, supporting, maintaining and upgrading new equipment. In an era of ever-tightening healthcare budgets, any financial savings made in each of these areas can ultimately result in precious extra resources for improved frontline services.
To learn more about how CDW has helped Mid Cheshire NHS Trust improve patient care, watch our video case study below or download a copy of the written case study - Download Case Study.
For any enquiries, please contact CustomerReference@uk.cdw.com.