It is clear today that you no longer need to be sat at a desk in an office to your job. A seismic shift to remote working has demonstrated that employees can be as, if not more, productive while based at home – or anywhere else for that matter.
However, many organisations want to ensure they're providing their staff with the full modern desktop experience while working on-the-go. So how can they achieve this? One answer is Windows Virtual Desktop (WVD).
Windows 10 Desktop Experience – Wherever You Are
A little background: launched in 2019, WVD is a comprehensive desktop and app virtualisation service running in the cloud, on Microsoft Azure. It's a virtual desktop solution that offers Windows 10 multi-user and delivers simplified management, along with optimisations for Office 365 and support for Remote Desktop Services (RDS) environments.
So, what does this all mean in practice? Put simply, WVD can provide remote users with the Windows 10 desktop experience, including running the full Microsoft 365 platform. This now includes using collaboration powerhouse Microsoft Teams for video meetings with low latency – a crucial factor for employees as the world clicks on to video calls now more than ever. From wherever the user may be, the familiar Windows experience is seamless and consistent.
Another huge selling point for employees is WVD's flexibility – it can run over a thin client, desktop or laptop, from wherever there is internet access. Now team members are not constrained by device type or location and can communicate and collaborate as easily as in person. Again, this is important as employees who are empowered by the cloud to work remotely are among the most satisfied, creative and productive. Studies show that organisations that invest in the employee experience are four times as profitable as those which don't.
WVD also enables teamwork – a must when we spend more time collaborating than ever before. Geographically dispersed teams can now work from one resilient platform, connected through a centralised location, creating greater efficiencies and satisfaction all-round.
But what's in it for the enterprise? For any modern organisation, agility is a must. In an uncertain businesses landscape, organisations need to react quickly to changing market scenarios.
WVD can scale in line with your business' requirements, as and when you need it. This has been evident in the rush globally by organisations to stand up remote workforces almost overnight. There is no upfront investment in servers and other hardware, licences or additional memory, or time waiting for rollout and installation. WVD hosted on a public cloud service like Azure means you can increase the number of your virtual machines (VMs) within minutes – the capacity is there should you need it. Just log in to the portal and specify how many additional machines you need.
In fact, updates in Spring 2020 made it easier than ever for IT admins to get up and running within minutes, and to spin virtual environments up and down on-demand – essential for today's uncertain times.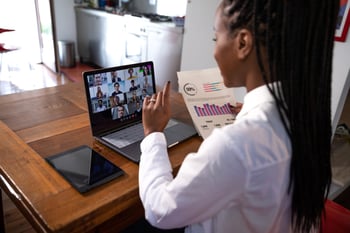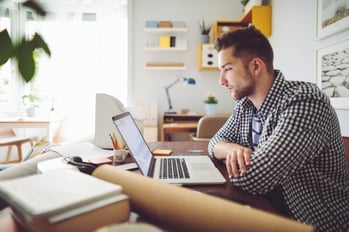 Security Built-In
Another must-have with any system that enables remote working is security. This was highlighted by a sharp rise in cyber-attacks after the shift to homeworking during the current global health crisis. However, Microsoft's investment in security second-to-none, as seen with the powerful features in-built in the Azure platform.
To consume WVD you need Azure Active Directory, and with that, you can take advantage of a wealth of security features. You can implement security measures like multi-factor authentication (MFA) that replicates a user's online banking experience, for example. Other options include encryption of disks at rest and customer-managed security keys, which provide additional confidence that your data is secure.
Making the Most of Windows Virtual Desktop



As one of only a handful of direct Cloud Solution Providers to work with Microsoft, CDW has the expertise you need to get the most out of your WVD deployment. Our Microsoft Certified Consultants have the skills, knowledge and experience to tailor your WVD set-up to your business requirements, laying the groundwork with a comprehensive audit, proof of concept and consultation process.
2020 has demonstrated that work is no longer a place you go, but a thing you do. WVD provides an excellent platform to enable rapid and secure remote working and with CDW's help your employees can be productive from wherever they are.
Thank you for taking the time to read this blog,if you are interested in learning more or would like to organise a demo of Windows Virtual Desktop, please contact your Account Director or email info@uk.cdw.com.

Jake Walsh, Technical Consultant - Cloud Platforms at CDW.