Discover the real value that Dell EMC Isilon can bring to your business… besides future-ready scale-out storage.
The world is experiencing an explosion of unstructured data – data that holds huge potential for innovation if businesses can leverage it in the right way.
To keep up with the volume of data whilst leveraging the value that it holds, organisations like yours need a scalable, efficient and future-ready storage platform.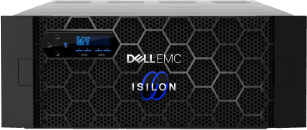 Scale-out storage solutions with Dell EMC Isilon
Dell EMC Isilon scale-out storage solutions are powerful yet simple to scale and manage, no matter how large your unstructured data environment becomes.
Simplicity at scale
Isilon makes managing your data simple and does so without impacting your performance. Say goodbye to complex data silos with a scale-out solution that's simple to manage – allowing your teams to spend their time on adding value, not additional storage volumes.
No time for downtime
We know that downtime of your storage is a no-no. You need access at all times if you are to drive innovation.
Which is why Isilon is designed to be highly resilient – maintaining complete availability of your data and enabling a continuous source of data value.
Spend less, invest more
In the past, increasing your storage capacity required costly investment and large amounts of physical space to house it.
With Isilon's efficient use of capacity and minimal use of floorspace, your organisation can save a fortune in storage costs and invest more into areas that will drive real business value.
With its simplicity, scalability and efficiency, Isilon provides you with a future-ready storage solution that unlocks the value of unstructured data and allows you to focus on driving business value.