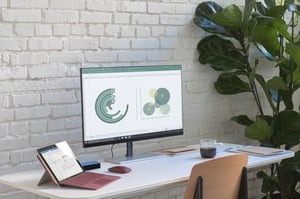 Microsoft's premium Surface devices are a growing presence in enterprise environments. However, the increasing popularity of the Surface family should come as no surprise.
By intrinsically aligning a definitive portfolio of software with intelligently designed hardware, Microsoft has created a compelling proposition for business users with a wide range of requirements.
Two of the most important business imperatives today are to accommodate employees' expectations of mobility while at the same time pursuing a path towards greater productivity. Until recently, it was very difficult to achieve both objectives simultaneously. But with Surface, Microsoft has delivered a solution that is effortlessly mobile but also accommodates apps and tools to help employees get things done. It's additionally fortified with an array of security features that are active across both hardware and software. Furthermore, it's pleasurable to use, providing professionals with an intuitive interface that encourages them to fluidly capture, visualise and share their ideas and plans.
In a recent interview, the corporate vice president of Microsoft Devices, Panoy Panal said the foundational integration of software and hardware had been pivotal to the success of Surface. "Now we're in this place where these products were built together, and the beauty of the tech comes out. It blows my mind the see people put a finger and a pen down and create any way they want to. That transformative moment started when we really got into how to create the software with the hardware, instead of starting in two different places," he said.1
The Surface family empowers businesses to change the way users work for the better, explore technologies such as virtual reality that will be key to the future and strengthen control over security in order to manage risk more directly.
From front-of-house receptionists to creative directors, there is a Surface to suit. Let's the meet the family.
Surface Go
The newest addition to the range is designed to empower frontline workers, from customer service assistants who want to handle enquiries on the spot to field engineers who need to capture and record measurements and observations from remote locations. Surface Go makes the most of Microsoft 365, which brings together Microsoft Office, Windows 10 Pro, and Enterprise Mobility + Security. Whether running mobile apps or full feature desktop software, Surface Go handles tough tasks with fast processing and long battery life. With Surface Go the user no longer needs to create paper notes, instead using the touch screen or the Surface Pen for a natural writing experience.
Surface Pro
Surface Pro is a best-in-class laptop that has the versatility of a studio and tablet. The stunning PixelSense Display supports Surface Pen and touch, and with up to 13.5 hours of battery life users can work all day without wires. Surface Pro works seamlessly with Surface Pen, Surface Dial and Office, and runs the full Windows experience, including 3D creation tools. Additionally, LTE Advanced allows users to connect and work anywhere.
Surface Laptop
For business executives, Surface Laptop represents a distinct advance upon the conventional notion of a laptop. Light in weight but with a long battery life, it is optimised to provide the best experience of Office and Windows, including enterprise grade security features. Interactive navigation is delivered via the 13.5" touch screen display, while the premium Alcantara keyboard ensure the familiar experience of a laptop is available to those who need it.
Surface Book
Liberating users from fixed workstations is one of the primary objectives of the Surface family and this concept is fully realised by the Surface Book. Its thin, light and portable design is backed by powerful graphics and long battery life, encouraging users to pick it up, move and collaborate. With a click, the screen detaches easily, turn the screen around and reattach it to the keyboard, and it becomes a powerful creative canvas. It has been particularly popular among users working with intense graphical applications.
Surface Studio
Creative professionals were front of mind throughout the design of the Surface Studio, the all-in-one desktop device with touchscreen display. It also supports the Surface Pen. Its roomy and adjustable 28-inch PixelSense Display provides a huge canvas for all kinds of work. Users can position it upright to sketch, paint and edit photos, or lay it flat like a drafting table. It features a counterbalanced zero gravity hinge that moves between Desktop Mode and Studio Mode.
To help enterprise exploit the very best advantages of the Surface family, CDW provides a range of wrap-around services that add value in important areas. An extensive range of maintenance and support services are offered by CDW, underpinned by tailored SLAs and delivered by accredited engineers with demonstrable technical expertise. Design services, including the build of a main image, are also available alongside pre-delivery asset-tagging, deployment support and delivery.
How Secure is your Company Data
In 2018 over 25% of corporate data was transferred between mobile devices to the cloud. As the modern workforce embraces mobility it is vital for organisations to keep up with ever changing security threats. The Microsoft Surface range is a premium series of touchscreen, Windows 10 devices which deliver cutting edge security features that enables mobility without creating additional risk.
Empower Your Workforce
43% of the global workforce will be mobile in 2022 with an anticipated 150% rise in hours worked outside the office! The Microsoft Surface range is a premium range of touchscreen, Windows 10 devices which deliver an ideal balance of craftsmanship, performance and versatility, empowering today's workforce with the environment and technology to help them reach their full potential.
CLICK HERE to find out more about the Microsoft Surface Family.

1 https://techcrunch.com/2017/10/17/microsofts-panos-panay-discusses-the-past-and-future-of-surface/