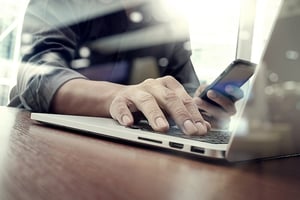 Remote working is on the rise. Around 15 per cent of the UK workforce is now working from home, according to the Office for National Statistics.
On top of that, commuters are keen to make use of their travel time by working on the train, and the number of people logging on at coffee shops, hotel lounges and pay-as-you-go office space is rising continually.

Many employees enjoy the added flexibility of being able to work whenever and wherever is convenient, which assists with that all-important work-life balance. On the flipside, businesses can often attract the best staff by offering flexibility and rises in productivity and job satisfaction are not unusual.
However, the rise of remote working can create IT challenges for business leaders. As a technology partner to businesses in all industries and in all areas of the UK, CDW is help organisations change the way they work for the better, assisting at all stages of the journey towards improved flexibility.
One question to address is: what devices does a remote worker need to carry around in his or her bag?
Traditional laptops can be cumbersome for professionals who need to move quickly between appointments and workspaces. On the other hand, smartphones and tablets may not offer sufficient computing power to get essential tasks completed.
This has paved the way for two-in-one devices that combine the functionality of a laptop with the lightweight dynamism of a tablet. The difficulty has always lain in overcoming compromises. Can a laptop-tablet handle a full range of applications without being heavy? Do you have lose out on battery life if you want premium performance? Can the device synch up seamlessly with the central office set-up when a user is back at his or her desk?
Microsoft has been offering an ever-improving solution with its series of Surface Pro devices and the latest in the line, which follows the Surface Pro 4 and is simply known as the Surface Pro, represents the pinnacle of that evolution. It offers a 20% performance improvement upon its immediate predecessor.
Launched in summer 2017, the fifth-generation Surface Pro solves a lot of the lingering dilemmas that might limit flexible working practices. It offers up to 13.5 hours of battery life between charges, yet incorporates a full suite of Microsoft Office tools, from the latest Outlook, Word, Excel and Powerpoint applications to 3D creation capabilities for designers. And despite being housed in lightweight and slimline body that is ideal for on-the-go working, it is a powerhouse, boasting the seventh generation Intel Core i5 or i7 processors for fast and responsive computing. Yet there is no noisy fan, which means users can say goodbye to intrusive whirring and buzzing and enjoy near-silent excellence instead.
The built-in kickstand enables extreme versatility. In laptop mode, the keyboard attaches seamlessly, while studio mode, with a subtle tilt, encourages creativity via the improved Surface Pen, which enables intuitive writing and drawing on the screen. In tablet mode, the device offers outstanding screen resolution and audio for an immersive media experience.
The Surface Pro is a go-anywhere addition to Microsoft's Surface family, which provide a complete solution for dynamic enterprise IT. The Surface Laptop offers a perfect balance of performance and portability, while the powerful Surface Book serves as the ultimate laptop. In creative environments, Surface Studio equips design professionals with revolutionary tools to unleash their imagination.
When workers are dispersed across multiple locations, collaboration is vital to progress. The Surface Hub provides the perfect management tool for meetings, combining the functionality of a whiteboard, conferencing centre and apps platform.
With the Microsoft Surface family, it is finally possible to reap the rewards of remote and flexible working practices. Let CDW help you change the way you work.
CLICK HERE to download our free guide to learn how Microsoft Surface can empower workers with new capabilities in the Professional Services.