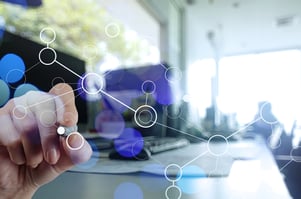 Until recently, the word agility was more likely to be heard in a sports commentary than a business meeting. But such is the pace of digital transformation that agility is talked about every day in boardrooms across the country.
Being agile allows businesses to interact with customers in new ways, win market share and increase profitability. The role of enterprise IT infrastructure is to deliver the necessary flexibility but existing resources may not be sufficiently agile, speedy or scalable.
Migration to the public cloud offers one possible road to improvement but in an age where one size no longer fits all, that option may not be suitable for the ever-widening range of demands that exist today – and that raises even greater concern about answering the needs that may arise in the future.
Transition brings testing times
This leaves IT leaders with a considerable challenge. A whitepaper published by Forrester in 2018 puts it like this: "IT Leaders who wish to remain relevant through technology-fuelled, customer-led disruption must elevate the status of the IT department – thinking beyond maintaining back-end functions and seeking to lead initiatives that directly affect the business' ability to win, serve and retain customers. Making this transition means IT must reimagine its current infrastructure approach; models now need to maximise scale, reliability and cost flexibility to stay apace with the speed of customers."
Hybrid IT offers a way forward
Hybrid IT represents a powerful proposition for businesses who want to exploit the speed and scale of the cloud alongside the sense of ownership that comes with on-premises infrastructure. By combining the benefits of on-premises infrastructure and the cloud, businesses can position apps in whichever offers the best fit.
The challenge for IT leaders is in managing the resulting infrastructure duality. How do you support a combination of both existing and emerging workloads, each with differing infrastructure requirements? The former comprises of traditional apps that are central to day-to-day business operations and are hosted on existing infrastructure. These might include, for example, Microsoft Exchange, or ERP systems. The latter are founded upon next-generation apps, which are typically cloud-based and rely on new levels of flexibility and automation in order to be rapidly provisioned.
However, managing this duality can be taxing on people, process and technology resources, resulting in both inefficient operations and compromised performance.
Resources are stretched
Technology analysts at IDC recently conducted a study of infrastructure and operations efficiency among medium and large enterprises. It identified areas of IT in almost all cases that lacked efficiency and suggested that poor utilisation of resources was causing unnecessary churn and wastage. The author of the report, Ashish Nadkarni issued a stark warning about the effect on the progress of progressive business models. "IDC found that by implementing next-generation apps on infrastructure designed for current-generation apps, such businesses risk putting their digital transformation initiatives in jeopardy," he concluded.
The evolution of software-defined infrastructure, however, has brought enterprise IT to the point where this conflict can be resolved, bringing the benefits of the cloud to on-premises arrangements.
The software-defined future
The origins of this evolution can be traced back to the period when traditionally disparate infrastructures were brought together in a converged infrastructure, enabling simplified procurement and easier operation. Then came hyperconvergence, with software-defined elements that can be implemented virtually to expand storage and compute capacity in a simple way
The next stage of that evolution is composable infrastructure, which moves beyond hyperconvergence by bringing networking, as well as storage and compute, into a single platform.
For those moving beyond the creation of virtualised environments with software-defined storage into more complex territory – involving an amalgamation of virtual machines, bare metal, containers and cloud-based applications – composable infrastructure accommodates a greater range of workloads and a higher degree of scalability.
What is composable infrastructure?
Composable infrastructure brings together compute, storage and network devices as easily accessible and highly fluid resource pools including physical, virtual and container elements. These can be provisioned via software-defined intelligence according to the specific requirements of the necessary workloads. On top of that, a unified application programming interface (API) delivers control to the fingertips of IT leaders, with every element of infrastructure abstracted in a single line of code.
This paradigm shift – also known as infrastructure as code – exploits the potential of automation to make infrastructure available as a quickly accessible service. The result, exemplified by HPE Synergy, is to optimise the agility, performance and efficiency of the data centre not only today but for the future.
Four proven advantages of composable infrastructure:
1. Enable a broader set of applications at lower costs
Greater capability without stretching your expenditure? It sounds too good to be true but with more fluid pools of compute, storage and network solutions it is absolutely possible. Hewlett Packard Enterprise estimates the cost per VM would be 29% lower in this model than with a conventional blade system. Furthermore, 14 times more storage can be made available per server. In terms of networking, businesses can save thousands of pounds in licensing fees per rack since fewer cables need fewer licensed ports. In addition, consolidating the power and cooling costs of the infrastructure as a whole creates long-term energy savings.
2. Simplify operations
Firstly, advances in software-defined intelligence bring you a single interface for up to 252 two-socket servers. When you add in auto-discovery of all available resources, it's possible to eliminate over 99% of management touchpoints, compared with a standard blade system. Secondly, time spent performing firmware updates can be cut by up to 73%, according to HPE. Thirdly, operating systems can be deployed at cloud-like speed on physical machines using the integrated provisioning appliance within HPE Synergy. As a result, a range of personalised systems can be booted in a matter of seconds. By managing physical compute in the same way as virtual, VM licensing and support costs can be reduced by up to 29%, according to HPE's example calculations.
3. Lower total cost of ownership
Both capital and operational expenditure can be reduced. In the first category, composable infrastructure simply delivers more capacity at a lower price per compute. In the second category, costs relating to support, maintenance, software licenses and operations are cut. Time spent by operators on provisioning VM clusters, updating firmware and drivers and adding capacity goes from several hours to just one or two. Another important source of savings exists in the reduction of overprovisioning that comes with composable infrastructure.
4. Future-proof your infrastructure
No longer constrained by the limitations of existing physical infrastructure, businesses that embrace composable infrastructure can quickly upscale their capacity wherever and whenever it is needed, coping with both existing and new applications as they arise. The infrastructure's bandwidth and power capacity is ready to handle future technologies, without expanding the data centre footprint or complicating management operations. What you are left with is greater confidence in the ability of the infrastructure to meet stated SLAs.
Taken together, the above advantages of composable infrastructure facilitate an environment in which IT plays a pivotal role in ensuring a business remains competitive. Agility in IT infrastructure creates agility in the enterprise, which can only help businesses reap the rewards of digital transformation.
Working alongside Hewlett Packard Enterprise, CDW can support businesses on their journey into hybrid IT, orchestrating a customised set of solutions to create the agile infrastructure that's needed to pursue growth in a digital world.
CLICK HERE to learn all about the benefits of HPE Synergy.
Author - Ian Dorrell, Datacentre Sales Specialist