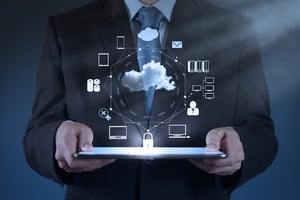 Think of the businesses you love buying from. The chances are they all have one important characteristic in common. Put simply, they seem to understand what you want and they provide it in a format that feels personalised, valuable, easy-to-use and always available. As a result, they are probably leaders in their markets, whether they are offering coffee, cabs or Christmas gifts.
In the decade ahead, the ability of businesses to rapidly understand and respond to the demands of their customers will be an increasingly vital influence on overall success. This is the core of digital transformation.
To enable the necessary agility, businesses are turning to cloud services in record numbers. By 2020, investment in the cloud will be growing six times faster than general IT spending, according to IDC Research. In particular, the speed and scalability of the public cloud expands the scope for devops, enabling enterprise to quickly build and deploy new apps and other services that drive value, open new revenue streams and attract customers. On the other hand, many organisations have existing workloads that are best accommodated on-premise for reasons of security, compliance or company policy.
The iterative evolution of different cloud architectures has led many organisations into a hybrid or multi-cloud environment, whether by design or not. The result is a complex combination of infrastructure types, typically identifiable as a three-tier model whereby storage, compute and networking functions are each handled separately.
A scenario like this requires a lot of piecemeal management by IT teams, which is expensive, time-consuming and restrictive. Furthermore, it diverts resources away from value-adding initiatives that will propel businesses into more profitable futures.
To address this complexity, organisations are adopting hyperconverged infrastructure solutions to provide overall visibility and one-click control of their multi-faceted infrastructure.
By 2020, Gartner estimates that 20% of business critical applications currently deployed on three-tier IT infrastructure will transition to hyperconverged infrastructure.
The benefits of data centre modernisation are compelling. By liberating IT personnel from the most strenuous aspects of hybrid infrastructure management, businesses can exploit the full potential of their cloud environment. Hyperconvergence, when intelligently managed, promises a fully optimised blend of public and on-premise architectures that eradicate unnecessary costs and accommodate diverse apps in the most environment that's most conducive.
As a pioneer of hyperconverged infrastructure, Nutanix has invested in the development of an advanced software platform that places this idealised environment within easy reach of enterprise. Its Prism infrastructure management solution provides enterprise with unified, intelligence-based control of multi-cloud architectures. Alongside that, close partnerships with hardware vendors have reduced friction between systems.
This provides enterprise with freedom to build new futures, away from the headaches associated with the manual operation of multi-cloud architecture.
Helping organisations prepare for the future is one of the foundational objectives of CDW, the global leader of IT orchestration. Working in close partnership with Nutanix, CDW brings the hyperconverged vision to life, leveraging long-held expertise, best practice workflow and integration with other suppliers to deliver tailored solutions to businesses. It is no coincidence that CDW was officially named as Nutanix's global partner of the year in recognition of its deep understanding of the technology.
To find out more about how CDW and Nutanix, working together, can prepare your business for a more customer-focused future, contact your CDW Account Manager today.