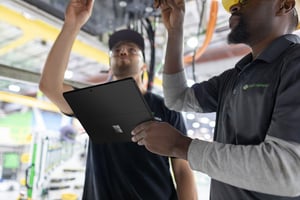 Will the latest Surface Pro from Microsoft oust conventional laptops from the work bags we carry around? That's the question for on-the-go professionals who need powerful computing capabilities in a dynamic, lightweight and portable package.
Launched in summer 2017, the new Surface Pro, number five in the family, is packed with features to boost the productivity of people working in industries ranging from finance to design. With CDW providing advice and support before during and after the purchase, this could change the way your business works. So let's put this laptop-tablet to the test during a typical working day:
8.45am Starting work
When you're ready to begin your day, there's nothing more frustrating than a laptop that takes several minutes to load up. The new Surface Pro offers a faster start-up than all of its predecessors and secure, simple sign-in with Windows Hello. What's more, when you need to pause for coffee, it will resume just as quickly.
9.15am Tackling your inbox
Coming from Microsoft, it's no surprise that the Surface Pro, like its predecessors, packs in all of the Windows Office tools you could possibly need, making it easier to manage your emails, open attachments and deal with multiple documents. Designers can even tap into 3D creation tools. Storage of up to 16GB, plus additional capacity available via the microSD card slot, enables stress-free saving of important items.
10am Writing a proposal
With a built-in kickstand, Surface Pro can be used in three ways: as a laptop, as a tablet and in studio mode. In laptop mode, with the premium keyboard attached, the creation of Word documents, Excel spreadsheets and PowerPoint presentations is straightforward and simple. Typing is comfortable and quick, thanks to the soft-touch and super-responsive key action.
10.55am Hitting that deadline
The speed of the Surface Pro is something to behold. This is a powerhouse laptop, with 2.5 times more computing performance than the Surface Pro 3. Equipped with the seventh generation processor from Intel®, the i7, the new device is super fast, performing 20% better than its predecessor, the Surface Pro 4. Suddenly, that deadline doesn't seem so daunting, does it?
11am Travelling to an appointment
Starting at just 1.7lbs and measuring just 8.5mm thin, this is the lightest Surface Pro yet. This sleek, streamlined and stylish device will slip straight into a bag without straining any muscles.
11.30am In a meeting
As well as being portable and lightweight, the new Surface Pro is extremely quiet. There's no noisy fan to distract your colleagues during that important meeting.
1pm Getting creative
When inspiration strikes, you need to capture your ideas quickly. In studio mode, the Surface Pro offers a slight tilt which is perfect for drawing, sketching and writing notes with the newly improved Surface Pen. Fast and intuitive, it is just like writing on paper.
3.15pm Beating the afternoon slump
Forgotten chargers need not make you fret. With up to 13.5 hours of battery life, the Surface Pro will be running smoothly long after lunchtime, even if you are feeling the effects of an afternoon slump. In fact, the battery life of the new Surface Pro is an incredible 50% longer than that of the Surface Pro 4 and 35% better than the iPad Pro.
5pm Heading home
As a tablet, the Surface Pro makes a great companion for the train journey home. The outstanding PixelSense HD screen and DolbyTM premium audio enable commuters to catch up with films and TV shows. Its versatility means commuters can even indulge in some gaming at the end of a busy day.
CLICK HERE to download our free essential guide to the Cloud and find out how the Surface Pro could empower your business.