Welcome to the final blog post covering the vSphere v6.0 End of General Support (EOGS) which ended on 12th March 2020. In our previous post, we covered how hardware incompatibilities present an opportunity to explore VMware software defined solutions (SDDC).
In this, the third and final high level post, we will cover the option of using VMware Cloud on AWS (VMC on AWS) - an excellent platform that can easily upgrade your environment from vSphere v5.x to the latest version.
What is VMC on AWS
VMC on AWS is a new offering from VMware to provide a seamless hybrid cloud experience for your on-premises datacentre and the public cloud. It runs VMware's SDDC software including VMware Cloud Foundation (VCF) on an AWS bare metal platform within AWS's datacentres. Running the same software on multiple destinations provides the consistency required to extend your datacentre to the cloud.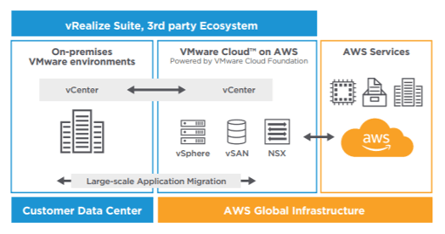 You can continue to leverage the same VMware tools and skills your IT team currently use and applications can be moved to the public cloud without having to re-factor or re-architect. VMC on AWS provides a solid platform to reduce risk in rapid cloud adoption with a consistent and cost-effective infrastructure.
VMC on AWS support for upgrading to vSphere v6.7
Migrating applications to VMC on AWS can make the upgrade to vSphere v6.7+ much easier by utilising Hybrid Cloud Extension (HCX) - VMware's workload mobility tool. HCX supports the bi-directional migrations of applications from vSphere v5.0 to the latest version, providing the flexibility to move workloads between versions.
If you are constrained with time and resources to upgrade a EOGS version to vSphere v6.7+ or higher, leveraging VMC on AWS and HCX to manage the upgrade process can provide a low risk and rapid solution. HCX will run a number of checks first, flagging any issues when migrating applications between vSphere versions.
This will then allow you to either re-architect your on-premise environment to the latest version and move the applications back or keep them in VMC on AWS, re-purposing the on-premise for other projects.
CDW helps to de-risk complex projects
At CDW, we have a wealth of knowledge and experience to help de-risk large projects such as this including migrating workloads to the public cloud. Our solution architects and technical experts can offer the support you need to correctly assess your current environment, plan for a successful upgrade and remove complexity. Our processes streamlined over many years has allowed us to develop methodologies which reduce the time and cost for our customers. CDW have professional services to help carry out the work on your behalf, augmenting or freeing up your own resources.
To book some time with one of our VMware experts and learn more, please email us or contact your CDW Account Manager.