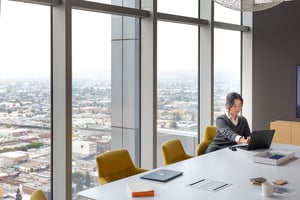 For IT decision-makers in enterprise environments, ROI projections are one of the most vital elements of a successful request for technology investment. However, the production of accurate ROI predictions can be extremely challenging.
To assist in this process and establish a robust business case for its Surface devices and associated software, Microsoft commissioned Forrester Consulting to conduct a Total Economic Impact™ (TEI).
The objective was to examine the potential ROI enterprises may realise by implementing Microsoft 365 Enterprise on Microsoft Surface devices. To better understand the benefits, costs, and risks associated with this investment, Forrester interviewed and surveyed hundreds of customers with experience using Microsoft 365 on Microsoft Surface devices across seven countries, including Australia, China, France, Germany, Japan, the UK and the US.
In the report, 'Maximizing Your ROI From Microsoft 365 Enterprise with Microsoft Surface' , Forrester concluded that organisations using Microsoft Surface devices powered by Microsoft 365 Enterprise have the following three-year financial impact:
$21.06 million in benefits versus costs of $9.93 million, resulting in a net present value (NPV) of $11.13 million and an ROI of 112%.

Payback period of 16 months.
Forrester reported: "To rapidly innovate, better serve customers, and engage workers, organisations across the globe are using technology-driven solutions that improve information sharing, enhance teamwork, accelerate decision making and drive process efficiencies. Organisations are leveraging modern devices with next-generation capabilities, including voice recognition, digital pens, and touchscreens, to further empower their digitally-driven workforces. This strategy is working: 62% of information workers agree that using these next-generation technologies help to make them more productive in their jobs."
The following risk-adjusted quantified benefits are representative of those experienced by the companies surveyed and interviewed:
Employees more than doubled the communication, information sharing, and business workflow productivity gains seen from using Microsoft 365 Enterprise without Surface. Workers realised nearly five hours in weekly productivity gains using Microsoft 365 on Surface.

Using the combined creative capabilities of Surface and Microsoft 365, including Pen, Touch, Dial, 3D in PowerPoint, collaboration features in Skype and Microsoft Teams, organisations streamlined creative tasks, saving creative workers 27 minutes per day.

Enhanced teamwork capabilities using Microsoft 365 Enterprise powered Surface devices saved employees over three hours per week.

Using Microsoft 365 Enterprise with Microsoft Surface, business leaders reduced decision-making time by nearly 21% versus 18% for leaders using Microsoft 365 Enterprise on other devices.

Organisations reduced product development overhead costs by 11%. They accelerated time-to-market and reduced product development costs through better task prioritisation, research and development (R&D) collaboration, and improved data management and analytics capabilities using Microsoft 365 on Surface.

The mobility benefits of Surface combined with secure remote access features of Microsoft 365 Enterprise saved mobile workers over four hours per week.

IT saved two and a half hours per application provisioning request and over 25 minutes configuring each device. The combined device, application, and security configuration and provisioning synergies of Microsoft Surface, Windows AutoPilot, Windows 10, and EMS improved IT and user productivity.

The stability of Surface resulted in fewer incidents of crashing, while the number of password reset-focused help desk tickets were nearly eliminated using the self-service capabilities from EMS to administer password resets. Help desk calls for password resets were reduced by over 86%, while device and application performance-related tickets were reduced by 15%.

Security breach remediation costs were reduced by 80% and the number of annual breaches was reduced by 50%. Using two-factor authentication, Advanced Threat Analytics and Surface Enterprise Management Mode (SEMM), organisations cut the volume of breaches experienced annually in half.

The organisations reduced several third-party technology costs, devices, infrastructure and IT support requirements using Microsoft 365 powered Surface devices.
To help enterprise IT leaders realise the economic advantages of the Microsoft Surface family, CDW provides a range of wrap-around services that add value in important areas. An extensive range of maintenance and support services are offered by CDW, underpinned by tailored SLAs and delivered by accredited engineers with demonstrable technical expertise. Design services, including the build of a main image, are also available alongside pre-delivery asset-tagging, deployment support and delivery.
CLICK HERE to visit our dedicated page for full details of our Microsoft business solutions.
The financial results calculated in the benefits and costs sections of the study were used to determine the ROI, NPV, and payback period for the composite organisation's investment in Microsoft 365 powered Surface devices. Forrester assumed a yearly discount rate of 10% for this analysis.