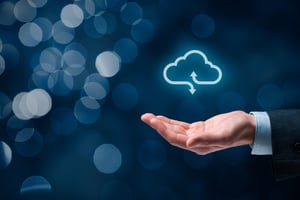 Business are investing in cloud solutions at an unprecedented rate. Gartner predicts that the global public cloud market will grow 17.3% in 2019 to a total of $206.2 million. Compared with $175 billion in 2018, that represents a significant leap, with infrastructure services identified as the fastest-growing segment and hybrid cloud being the most common form of adoption. But what is driving this rapid rise?
Increasing recognition of the business benefits inherent in cloud adoption is a key reason for the surge in demand.
The most successful cloud projects are based on a clear understanding of the commercial value that can be driven from cloud adoption.
Liberation from old infrastructure
For some organisations, cloud adoption is more of a necessity than an option. Ageing data centres typically struggle to cope with today's growing storage, compute and networking workloads, let alone the increasingly dynamic demands of future business models. The cloud can offer improvements in agility, performance, capacity and resilience.
Moving from capex to opex
From a financial perspective, the cloud offers scope to move away from capital expenditure in favour of a more flexible payment structure, particularly for start-ups and new applications. But the picture is more complicated for larger businesses, which may already have capital commitments to existing hardware. A partner with cloud expertise can assist with financial decision-making.
A more flexible and scalable environment
Fluctuating economic conditions and rapidly changing markets are reshaping traditional business models. While some are scaling up through growth, mergers and acquisitions, others are downsizing operations in response to industry challenges. Unlike traditional data centre hardware, which is scaled at a maximum level to accommodate peak periods but therefore often under-utilised, cloud architecture can scale up and down more quickly. As a result, new sites can be brought online at speed.
Quickly create a deploy new apps
Dev-ops is a growing area of focus for businesses seeking to carve out a competitive advantage by creating their own apps and services. Only cloud technology offers the agility required to make this happen.
Enable digital transformation
Retaining relevance in today's challenging markets requires enterprises to exploit digital technologies in pursuit of new services, new ways to manage employees, faster operations, greater efficiency and ways to add value to the customer experience. Cloud adoption can be a vital enabler of innovation at all levels.
Harness the power of big data
A longstanding cliché is that data is the new currency. The most successful businesses will be those that effectively capture data from numerous sources, analyse it for actionable insights and respond accordingly. That requires considering data processing power, dedicated analytics and business intelligence tools that can only be fully realised in the cloud.
Reduce pressure on internal resources
The day-to-day maintenance of legacy infrastructure represents a considerable drain on internal resources. Adoption of cloud solutions, particularly with the integration of managed services, removes that burden, enabling IT teams to dedicate more time to true innovation.
With a holistic view of business transformation, dedicated cloud experts and unique technology tools, we can help businesses develop a robust business case for cloud adoption. Ongoing tracking and management services enable long-term optimisation to ensure ROI is measured and delivered.
CLICK HERE to download for free your guide to the cloud journey.