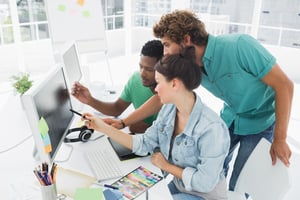 The frontline workers interacting directly with customers have too often been left at the back of the line when it comes to digital transformation.
Empowering senior business executives to exploit new ways of working is creating enterprise propositions that are better aligned with modern expectations. But without simultaneously empowering frontline workers to bring boardroom initiatives to life, customers may be unmoved.
That was the key finding of a report by Harvard Business Review Analytic Services, 'Building For Success at the Firstline of Business'. The report, sponsored by Microsoft, is based on a survey of 383 business leaders.
"Firstline workers—employees who are the first point of contact between organizations and their customers or who spend most of their time making products or managing operations—often have been an afterthought in many organizations' digital transformation efforts. That is starting to change. Business leaders looking to increase the efficiency and effectiveness of their workforce are extending their digital efforts beyond what we typically think of as knowledge workers to include maintenance workers, retail assistants, nurses, flight attendants, electricians, baristas, store managers and others. Indeed, the vast majority of respondents to a recent global survey from Harvard Business Review Analytic Services believe this will be essential to their organization's success in the future," says the report.
In fact, 78% of survey respondents agreed that future success depended on connecting and empowering frontline workers with technology and information. The most common motivations for this included increased productivity and efficiency, enhanced customer engagement and satisfaction, improved quality of product or service, greater market intelligence, increased innovation and greater employee satisfaction.

Yet the reality of putting that principle into practice is somewhat different, with noticeable gaps in the connectivity of frontline workers, depending on the type of work being done. Researchers found that around 47% of respondents had digitally connected and empowered a majority of their frontline workers. However, the figure dropped to 26% for those frontline workers involved in producing goods and maintaining or operating equipment.

Asked about the type of technology they envisaged supplying to frontline workers over the next two years, advanced analytics topped the list of answers at 60%. Close behind were unified communication and collaboration tools, learning and performance management, tablets, smartphones and virtualised workspaces.
So what is holding up the digital empowerment of frontline workers?
One of the barriers is a concern about data security. Providing frontline workers with mobile-enabled technology and access to company data creates fears over governance and protection. Other barriers quoted by survey respondents included the cost of rolling out digital technologies to a broader employee based. But there are also cultural blockers. Lack of skills, adherence to traditional hierarchies and low levels of commitment and engagement were also cited as barriers.
Lack of effective change management and adoption processes were identified as barriers by 41% of respondents.
The Microsoft Surface family of devices, running Microsoft 365, incorporates options for workers at all levels of an organisation. Many of he devices are lightweight and compact, making them a perfect fit for workers who need to be mobile. In fact, the latest Surface Go boasts LTE Advanced connectivity which, with the insertion of a SIM card, enables online access when Wi-Fi is unavailable or unreliable.
To help enterprise IT leaders realise the economic advantages of the Microsoft Surface family, CDW provides a range of wrap-around services that add value in important areas. An extensive range of maintenance and support services are offered by CDW, underpinned by tailored SLAs and delivered by accredited engineers with demonstrable technical expertise. Design services, including the build of a main image, are also available alongside pre-delivery asset-tagging, deployment support, adoption training and delivery.
To find out more call 020 7791 6000