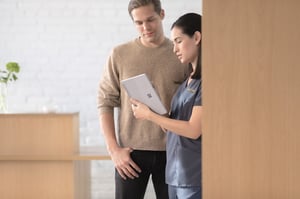 Emergencies don't conform to any timetable. The ability to respond to almost any incident at any time is what matters most to the emergency services. Are you ready?
In the case of a category one emergency – involving life-threating and time-critical illness or injuries – professionals are expected to be on the scene within a maximum of 15 minutes.
The clock is ticking…
That's 15 minutes in which to take a call, gather and record information, share details with the necessary teams, initiate a response and reach the location of the emergency. At the scene, an emergency worker will need to ascertain the level of danger, communicate that to others and share vital information with colleagues elsewhere.
Vital signs
There's a lot of information that needs to be gathered, recorded, securely stored and shared in a short space of time. The speed at which that can be done, accurately, effectively and efficiently, has a significant influence on the way the response is managed. Against a backdrop of limited resources and rising demand, new solutions are needed.
That's why powerful mobile devices, with associated software and advanced LTE connectivity, are playing an increasing role in emergency services. The Microsoft Surface range is at the forefront of this changing environment.
In the real world
Let's consider a scenario involving three vital members of the team. Mary, a call handler who takes the first call, uses a Surface Pro 6. Sam, the firefighter who tackles the emergency, uses a Surface Go, with LTE Advanced technology enabling internet connectivity via the 4G network, negating the need for WiFi. At the same time the station manager, Naomi, makes decisions and interacts with her colleagues in the other services, using a Surface Book 2.
Monday 11.45pm
Mary takes the initial call, recording notes with the Surface Pen. As the conversation unfolds, she realises it's a major incident. She quickly lets colleagues know via Skype for Business with professional microphone arrays. And then transfers the information to legacy apps so other services can access them – even if they don't have Microsoft 365.
Monday 11.50pm
Naomi sets up a virtual meeting with her peers in the other emergency services. She uses Teams, Skype for Business, Outlook Office co-authoring, and Surface Pen. She brings up maps and plans of the area where the events are taking place and shares them on OneDrive. Naomi's team sets up an incident control room. Connecting her Surface Go into the Surface Dock, she brings up images onto a large screen.
Monday 11.55pm
At the scene, Sam arrives with his ruggedised Surface Go. Thanks to the information that Naomi shared, the police have cordoned off the area and the ambulance service is already there. With a SIM card already installed in his Surface Go, he uses advanced LTE connectivity to check documents and find out whether there are any dangerous substances. Once he's done so, Sam puts the documents on OneDrive for his colleagues in the other services to see. Then he uses the camera and video to send images from the location, along with his notes, back to Naomi's incident control room. He shares these with his colleagues.
Thursday 10am
Naomi presents an analysis of the incident to the assistant commissioner. She uses her Surface Book 2 to consolidate her findings. It shows that they all worked together more efficiently, rapidly and safely.
This simple scenario shows how the Surface can help the emergency services work as one team, making it a valuable asset in a sector where success depends on responsiveness.
To help IT leaders in emergency services exploit the advantages of the Surface family, CDW provides a range of wrap-around services that add value in important areas. An extensive range of maintenance and support services are offered by CDW, underpinned by tailored SLAs and delivered by accredited engineers with demonstrable technical expertise. Design services, including the build of a main image, are also available alongside pre-delivery asset-tagging, deployment support and delivery.
CLICK HERE to download our free essential guide to Emergency Services.