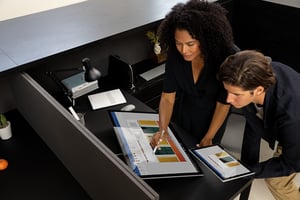 Handling large volumes of sensitive data and multiple transactions on a daily basis make the financial and legal sectors more vulnerable to fraud than most.
According to the Institute of Export and International Trade, the UK financial services generated a £68bn trade surplus in 2017. Meanwhile, the Bar Council suggests legal services accounted for fees of around £30.9bn in 2016. That's a lot of revenue. And a lot of temptation.
So, what can you and your colleagues in the professional services industry do to protect yourselves against unauthorised access to your data?
Technology plays a major role in keeping your firm safe. But it's not the only protection. You also need rigorous cybersecurity checks and balances to make sure that systems remain watertight.
Strengthening defences in financial services
Let's spend some time with Tom, who works in a local branch for a financial services company. As he spends most of the day hot-desking and meeting customers, he uses the Microsoft Surface Go running Microsoft 365 and with advanced LTE connectivity providing internet access when out and about. The robust security features of the device make it a valuable ally in the fight against fraud.
Tuesday 9am
Tom's about to start yet another busy day. With Windows Hello, he logs in using biometric authentication. As far as Tom's concerned, that's a big advantage. It offers enterprise-grade security – but he doesn't need to remember long, complicated passwords. Or write them down.
Tuesday 9.30am
As he meets with customers, Tom's keen to make sure they get the support they need. At the same time, he knows he needs to keep their data confidential and secure. Surface Go runs a range of Windows 10 security features and the enterprise-grade TPM chip. So, he's able to safeguard the personally identifiable information (PII) of his customers. With advanced LTE connectivity enabling the insertion of a SIM card, Tom can tap into 4G services and access essential documents from the web regardless of his location.
Tuesday 10.15am
Finally, when a customer's ready to decide on a product, Tom can take a "client" signature on the spot with the Surface Pen and electronic signature integration. That way, he's got proof that the client's authorised him to act.
More layers of security in the legal sector
Next, let's meet a solicitor, Aidan. He's been working at his law firm for several years and is always on the go. He splits his days between the office, court, prison and issuing briefs.
Aidan needs to make sure he's protected from hacking, unauthorised access to files, and other kinds of fraud. And, his work is highly confidential. He needs to save data securely – wherever he happens to be.
Wednesday 9.30am
Aidan is visiting a prison, capturing case or evidence notes on his Microsoft Surface Pro 6.
Wednesday 11.15am
Back at the office, Aidan is getting documents electronically signed with the Surface Pen. And, wherever he is, he stores those documents securely in the cloud.
Wednesday 2pm
Later, Aidan is in court using his Surface Pro 6 for electronic disclosure. Then, he's off to work with colleagues and barristers in chambers. There, he uses Teams, knowing that their conversations are secure, private and compliant. He transfers his data securely. His Surface Pro 6 includes Trusted Protection Module (TPM) chips. This provides hardware-based, security-related functions. He also uses Windows 10 security features; these include Windows 10 Device Encryption and Windows Defender.
These simple scenarios highlight how Surface Pro and Surface Go can be crucial tools for professional services firms. It's an important part of the cybersecurity mix, ensuring employees have the digital tools they need to work safely and securely, and reducing the risk of fraud.
To help IT leaders in financial and legal services exploit the advantages of the Surface family, CDW provides a range of wrap-around services that add value in important areas. An extensive range of maintenance and support services are offered by CDW, underpinned by tailored SLAs and delivered by accredited engineers with demonstrable technical expertise. Design services, including the build of a main image, are also available alongside pre-delivery asset-tagging, deployment support and delivery.
CLICK HERE to download our free essential guide to Professional Services.