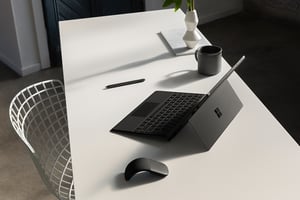 Financial and legal services are facing business threats from numerous angles.
Firms in these industries are a prime target for hackers, with large banks of sensitive data that can be stolen and sold on.
At the same time, there are new competitive threats. Blockchain and smart contracts are changing the way people procure financial and legal services. Client expectations are rising as part of this trend.
Then there are compliance obligations, which are getting tougher. GDPR and PSD2 will continue to have major effects on financial services, which spend an estimated £5 billion each year on compliance.
All of this is happening against a backdrop of economic uncertainty, driven by issues including Brexit, which are forcing financial and legal firms to reconsider where and how they work. Recruitment during a period of skills shortages is another source of concern.
Considering that UK services account for 44% of the UK's total global exports, it's vital that these issues are addressed.
Forward-looking firms are stepping up their adoption of technology to secure business performance amid these many challenges.
A 41% rise in legal firms using technology to enhance the experience they offer to clients.

70% of legal firms have adopted remote and mobile working.

5.3% of legal revenue spent on IT support.

Investment in fintech hit record levels in 2017.
Establishing new ways of working depends on equipping key personnel with the tools to be agile, productive and compliant, regardless of where they are working.
CDW is working with Microsoft to demonstrate the potential of the Microsoft Surface family in the professional services sector. Let's look at how the key capabilities of Microsoft Surface come into play at different levels of the organisation.
Out in the field, workers including insurance adjusters and wealth advisors benefit from having the latest productivity and collaboration tools built into a device that enables online connectivity even without Wi-Fi. The Microsoft Surface Go, with advanced LTE capabilities and scope for the insertion of a SIM card, empowers these professionals to work without compromise. They can deliver enhanced customer experiences with on-the-spot insight.
Back at the office, colleagues including corporate legal associates and solicitors could use the Microsoft Surface Pro 6, to draft complex documents, work with colleagues via Teams, bring up information via PixelSense touchscreens and run full-featured desktop and mobile apps.
With advanced devices such as the Surface Laptop 2, Surface Go or Surface Pro 6, running Microsoft 365, finance and legal professionals can…
Take photos and notes, using the integrated Surface Pen and OneNote, uploaded directly and securely to OneDrive.

Stay up to date with the latest market trends, through an HD PixelSense touch display.

Give compelling presentations with Surface Pen and PowerPoint.

Answer client questions on the spot via seamless Microsoft 365 integration.

Run powerful financial and analytics applications thanks to 7th generation Intel® Core™ processors.

Share ideas from colleagues and clients in real time, negotiate tasks and agree fees, using Office co-authoring, OneDrive document sharing, the Surface Pen, and Skype for Business.

Draft complex contracts on a specially-designed keyboard.

Stay connected and access essential resources with built-in long-term evolution (LTE) and Wi-Fi connectivity.

Work with legacy apps that run smoothly on Windows 10.

Get management approval and digital signatures, regardless of location.
To help IT leaders in financial and legal services exploit the advantages of the Surface family, CDW provides a range of wrap-around services that add value in important areas. An extensive range of maintenance and support services are offered by CDW, underpinned by tailored SLAs and delivered by accredited engineers with demonstrable technical expertise. Design services, including the build of a main image, are also available alongside pre-delivery asset-tagging, deployment support and delivery.
CLICK HERE to download for free our essential guide to Digital Empowerment in the Professional Services