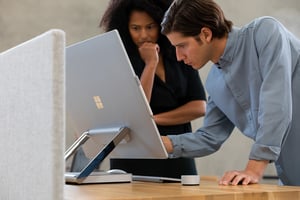 What do you want your IT environment to look like in 13 months' time? The question is highly relevant, because the decisions made today define the way organisations operate in 2020 when the support for Windows 7 ends. Ignoring this will not make it go away and organisations are strongly advised to consider the potential cost of doing nothing.
The complex strategic considerations involved in planning migration to a new platform and the process can present several risks. Support from an experienced partner, such as CDW, can help organisations navigate these risks and create an IT environment that is better equipped to adapt to the challenges and opportunities of the future.
With digital transformation reshaping traditional business models, organisations need to be more flexible in the way they do business. Competitive edge will belong to those who are not afraid to embed new tools such as big data analytics, mobility, cloud-enabled innovation, AI and digitisation in their business strategies and are ready to adapt to meet changing requirements.
Here we look at four ways migration from Windows 7 can help prepare business for the future.
Introduce Flexibility
The expectations of the millennial generation – set to form half of the global workforce by 2020 – as well as employers' desire to cater for them to attract and retain talented staff, are changing the requirements for organisations' IT environment. This is reflected in the continuous growth of remote and mobile working as well as greater integration of new technology, such as smart phones and wearables, into the workplace. These changes call for the IT structure to have greater capacity for scalability, resilience and security. The migration from Windows 7 to a more modern operating environment is a good opportunity to consider potential future requirements and take steps to achieve a solution that will be capable of supporting them.
Control Costs
Upgrading operating systems sets new requirements for hardware. Devices that are more than five years old are past their prime, performing 2.5x slower1, with 3x less battery life2 and wake up from sleep mode 4x slower than new Windows 10 Pro devices3. Additionally, every PC more than four years old could cost more than £1,300 annually in maintenance, repairs and lost productivity compared with a new Windows device. An audit can help reveal legacy machines that will not benefit from the platform migration and should be retired and identify employees who are using legacy devices that are unsuitable for their current and future needs. Perhaps some employees currently working on legacy desktops would only require a smartphone or a tablet, whereas their colleagues with a host of administration duties would be more productive with a laptop featuring the full Office365 suite. Working with a partner, such as CDW, can help achieve a cost-effective solution to ensure employees are have access to devices that are most suited for their needs.
Improve Security
Almost 50% of UK businesses have suffered a data breach or cyber attack according to recent research.4 In financial terms, a typical attack can cost more than £60,000.5 Upgrading from Windows 7 will protect the enterprise from being compromised by an unsupported operating system, but it doesn't help eliminate all risks, especially ones that arise from within the organisation. Research shows that over 40 percent of companies admit to consciously ignoring critical security problems due to lack of time, resources or knowledge of how to correct them.6 This can pose a serious risk to business continuity. Working with a partner can help achieve a safe migration to the new platform and ensure additional security measures and a reliable support network are in place to identify and address potential issues.
Capitalise On Disruption
As any large-scale IT operation, migration to a new platform, such as Windows 10, is likely to result in some disruption to business, no matter how well the upgrade is managed. IT directors should make use of this opportunity to review what other required upgrades and improvements could be done at the same time, to minimise the possibility of minor upgrade work resulting in unplanned downtime in the future. IT administrators estimate a 20% reduction in IT management time with Windows 10 Pro.7
Microsoft recently announced three new services to help organisations make the change to a modern desktop. These include the launch of cloud-based analytics tools to make deployment easier, a programme to ensure app compatibility for upgrades and updates of Windows and Office, and changes to servicing and support arrangements.
On top of this, CDW can help organisations safely navigate the challenges of platform migration and design an adaptable solution that will continue to meet their changing requirements, now and in the future.
CLICK HERE to learn more about the Microsoft Surface family or contact your Account Manager today.
Windows 7 extended support is ending January 14, 2020. While many organisations are well on their way to deploying Windows 10, many others are at a different point in the upgrade process. With that in mind, Microsoft has recently announced that paid Windows 7 Extended Security Updates (ESU) will be available until January 2023. The Windows 7 ESU will be sold on a per-device basis and the price will increase each year. Windows 7 ESUs will be available to all Windows 7 Professional and Windows 7 Enterprise customers in Volume Licensing, with a discount to customers with Windows software assurance, Windows 10 Enterprise or Windows 10 Education subscriptions. In addition, Office 365 ProPlus will be supported on devices with active Windows 7 Extended Security Updates (ESU) until January 2023. This means that customers who purchase the Windows 7 ESU will be able to continue to run Office 365 ProPlus.
Resources:
1. Software and workloads used in performance tests may have been optimized for performance only on Intel microprocessors. Performance tests, such as SYSmark and MobileMark, are measured using specific computer systems, components, software, operations and functions. Any change to any of those factors may cause the results to vary. You should consult other information and performance tests to assist you in fully evaluating your contemplated purchases, including the performance of that product when combined with other products. For more complete information visit www.intel.com/benchmarks. The benchmark results reported above may need to be revised as additional testing is conducted. The results depend on the specific platform configurations and workloads utilized in the testing, and may not be applicable to any particular user's components, computer system or workloads. The results are not necessarily representative of other benchmarks and other benchmark results may show greater or lesser impact from mitigations. As measured by SEG572 vs. a 4-year-old commercial PC.
2. Performance of 6th Gen Intel Core processors in Windows 10 Pro devices, estimated based on Windows 8.1 Local HD Video Playback Power. Comparison based on Intel Core i5-6200U vs Intel Core i5-520UM
3. Testing conducted by Principled Technologies in July 2015 in a closed lab environment using OEM factory default images on a representative sample of Windows 7 devices. Each boot test was run 10 times and the averages compared. Average improvement in start-up was 28%.
4. Small Business PC Study, TechAisle, 2016.
5. Cyber Security breaches survey 2017, Main Report, April 2017, Ipsos MORI Social Research Institute.
6. Forrester, Total Economic Impact of Microsoft Windows 10 Pro.
7. Compared to prior version of Windows, Forrester. Total Economic Impact of Windows 10 Pro.
Contact CDW today to find out how the Surface Pro could empower your business.