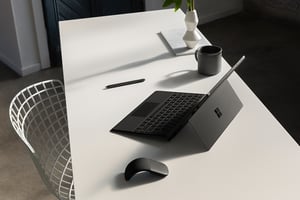 For IT decision-makers in enterprise environments, ROI projections are one of the most vital elements of a successful request for technology investment. However, the production of accurate ROI predictions can be extremely challenging.
The pressure on the blue light sector to be responsive to a wide range of emergencies, against a backdrop of budget constraints, is being felt at all levels. Demand is rising but resources are limited.
There are typically 10.7 million calls and NHS 111 transfers to the ambulance service in England each year.

6.5 million incidents resulted in face-to-face attendance by the ambulance service in England during 2017.

Research suggests 90% of chief fire officers expect further cuts in frontline posts.
Confronting these challenges requires IT leaders in the emergency services to consider new ways of working.
By putting the latest secure mobility solutions in the hands of the people who protect us, we can help them capture information, stay connected and collaborate with colleagues, whether they are attending an incident or coordinating operations in the control room.
CDW is working with Microsoft to demonstrate the potential of the Microsoft Surface family in emergency services. Let's look at how the key capabilities of Microsoft Surface come into play at different levels of the command chain.
Your first responders can…
Easily access vital information from nearly anywhere. Surface makes it simple with its advanced long-term evolution LTE connectivity.

Stay mobile by taking notes in the field with the Surface Pen. There's no need to carry stacks of paper.

Capture quality photos and videos with Surface Go's high-definition front- and rear-facing cameras. Then, mark them up instantly with the Surface Pen.

Transfer notes from Microsoft 365 apps to legacy software with ease.

Protect their Surface Go with tough, durable third-party cases.

Do more, with all-day battery life, negating the need to look for power sources.

Work and collaborate from wherever, via Teams, Skype for Business, Outlook Office co-authoring and OneDrive document sharing.
Your desk-based team can…
Easily log data, take notes and share them, with Office collaboration features, the Surface Pen, and the Surface Precision Mouse.

Link to critical displays and peripherals with one-point connection to the Surface Dock.

Make meetings feel as though they're personal, thanks to the Surface 1080p HD cameras, advanced mics, and Dolby® Audio™ Premium speakers.

Work quickly with the high performance of the latest-generation quad-core Intel® Core™ i7 processors.

See incident photos in detail with the 13.5" PixelSense display's seven million pixels.

Access documents, thanks to seamless file synchronisation from OneDrive.

Present effectively with 3D and Mixed Reality content, and the most powerful graphics performance in the Surface family.

Manage and protect vital data with the latest security features from Windows 10.
To help IT leaders in emergency services exploit the advantages of the Surface family, CDW delivers tailored technology with a range of wrap-around services that add value in important areas. An extensive range of maintenance and support services are offered by CDW, underpinned by tailored SLAs and delivered by accredited engineers with demonstrable technical expertise. Design services, including the build of a main image, are also available alongside pre-delivery asset-tagging, deployment support and delivery.
CLICK HERE to download for free our essential guide to Digital Empowerment in the Emergency Services.