In 2020 the pace of digital disruption shows no signs of slowing. Regardless of their size or sector, organisations are investing in technology to help deliver a competitive advantage – whether that's realising operational efficiencies, improving customer relationships, increasing employee productivity, or bringing products to market faster.
These same organisations are also having to juggle more users, devices, applications and new business models, such as remote and flexible working, with employees today expecting to work from anywhere, across any device at a time that best suits them.
Additionally, most organisations have migrated some, if not most of their workloads to the cloud, with many embracing a
hybrid or multi-cloud model
. Gartner predicts that by 2024
, two-thirds of organisations
will have invest in multi-cloud strategies that reduce vendor dependency.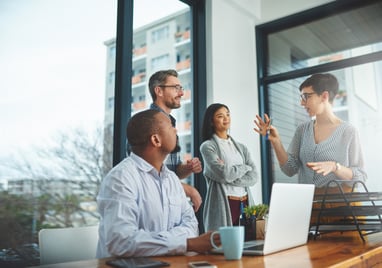 As you might expect, this all places an unprecedented demand on traditional enterprise wide area networks (WANs), which were not built to meet the needs of today's modern enterprises. They simply can no longer match application performance expectations or ensure the flexibility and security needed for today's cloud-based apps and mobile workforce.
To help manage these complex demands, more organisations are instead turning to new and disruptive technology that harnesses the power of software, most notably software-defined wide area networking (SD-WAN). SD-WAN makes it easier and more cost-effective to manage multiple connection types across the WAN, improving application performance and the end-user experience.
Indeed, IDC predicts that the SD-WAN market will grow at almost 31 percent to reach a value of $5.25 billion by 2023, as traditional enterprise WANs struggle to meet the needs of today's modern digital businesses – especially when it comes to supporting SaaS (software-as-a-service) apps and multi- and hybrid-cloud usage.
Essential for the modern cloud-focused workplace, Cisco SD-WAN optimises SaaS performance for Office 365, Salesforce, and other popular cloud-based business applications. It also delivers seamless connectivity to the public cloud to simplify workflows for Amazon Web Services (AWS), and Azure.
Further, organisations deploying Cisco SD-WAN can substantially improve WAN performance while optimising the costs of running their WAN environments. As a result, they can generate significant value for their business by:
Increasing performance while lowering connectivity costs by increasing bandwidth even as they reduce overall connectivity costs
Requiring less IT staff time to manage and secure WANs through centralised software-defined automation and segmentation, helping further optimise the cost of running WANs
Providing higher-performing and more reliable business applications, enabling higher employee productivity levels
Instilling business operations with greater scalability and flexibility, helping address more business opportunities and thereby increase revenue
In addition, Cisco SD-WAN includes application-aware routing and application-aware policies that allow real-time policy enforcement for cloud and on-premise solutions. Research shows that IT organisations were able to bring unplanned outages down by 82 percent and their software updates now take 51 percent less time with Cisco SD-WAN.
So how exactly can Cisco SD-WAN help your business increase performance, provide more choice and control, and simplify operations? This secure, cloud-scale architecture provides:
A predictable application experience that can help improve user productivity by optimising cloud and on-premise application performance with real-time analytics, visibility, and control
Security to help protect users, devices and applications that quickly deploys embedded or cloud security and threat intelligence
Simplicity at enterprise scale with a single user interface to make it easy to deploy SD-WAN and security while maintaining policy across thousands of sites
End-to-end visibility with Cisco vManage, which can quickly establish an overlay fabric to connect datacentres, branches, campuses and colocation facilities
Optional vAnalytics, which identifies connectivity and contextual issues to determine optimal paths for users to get to their destination, regardless of their connectivity
As a Cisco Gold Certified Partner with years of expertise, CDW has the skillset and expertise to assess your organisation's needs and orchestrate a custom solution using SD-WAN from Cisco.
Technology is evolving rapidly, and your organisation is at risk of losing out to the competition if it doesn't adapt to modern working methods and emerging technology trends. SD-WAN will underpin and enable the workplace of the future, ensuring unparalleled visibility across your WAN, optimal connectivity for end users, and the most comprehensive security platform to harden your network.
As a tier one Cisco Gold Certified Partner, CDW has achieved the highest level of credibility and the broadest range of expertise across Cisco's technology. With years of expertise, we have the skillset and expertise to assess your organisation's needs and orchestrate a custom solution using pioneering technology such as SD-WAN from Cisco.
For more information contact your CDW Account Manager today.