Understanding Device-as-a-Service: how simplified hardware management can give workers the tools they need
One of the biggest challenges facing IT departments today is how to manage the wealth of devices used across an organisation. Selecting, configuring, deploying, supporting, maintaining, recycling and upgrading equipment such as smartphones, tablets, laptops, and desktops can feel like a full-time job for IT teams. This process becomes even more complicated when employees bring personal devices in the workplace, and individual departments start making ad-hoc technology purchases.
This uncoordinated approach to device management also costs money. Failure to adequately track IT assets often result in redundant devices, potentially creating a risk, and can lead to unnecessary and unplanned purchases. And as a result, IT teams can spend much of their time on hardware management, and not enough effort on more strategic, value-driven projects in areas such as digital transformation or security.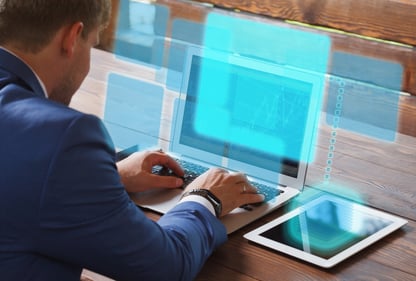 What is Device-as-a-Service (DaaS)?
This is where Device-as-a-Service (DaaS) comes in. DaaS replaces these laborious, error-prone processes, leaving the IT team free to concentrate on other innovative or revenue-generating projects.
But what exactly is DaaS? Over time, it has meant different things to different people. Here at CDW, we define it as the lifecycle management of a device – whether that's a PC, laptop or notebook, and the associated software. DaaS includes discovery, deployment, management and end-of-life disposal. Customers pay a monthly fee based on the number of devices and the services attached to them. It's a simple formula that delivers real business results.
So, let's look in greater detail at how DaaS services actually work. By examining data from employees' devices, CDW conducts a rigorous analysis of employees' IT usage, preferences and working practices against the needs of the user and that of the organisation. From here, we can devise a strategic device roadmap that is tailored to the customer – supported in three specific ways:
Deployment:

Driven by the National Distribution Centre (NDC) and the professional services team, CDW supplies ready-to-use devices, pre-configured and pre-staged with all imaging and asset tagging completed. This means employees can start work immediately.
Management:
Overseen by CDW's Network Operation Centre (NoC), we provide day-to-day technical support, including patch management, patch status reports, anti-virus and application deployment. We also offer analytics that can identify any hardware problems before they happen.
Disposal:
Devices can be refreshed and re-packaged or disposed of, as per the customer's requirement. This ranges from wiping the hard drive to completely and securely disposing of the entire device.
What are the benefits to organisations?
Some of the many benefits of DaaS include:
Efficiency

: Day-to-day management of devices is streamlined and simplified

Flexibility

: Deploy the latest devices quickly as your organisation scales up

Maximise resources

: Remove the burden on internal teams so they can pursue value-adding initiatives

Increase reliability

: Data on device usage and performance can be collated centrally to address issues before they happen

Control costs

: Unexpected bills are eradicated and moving from CAPEX to OPEX frees up funds for investment elsewhere

Productivity

: Consistent provision of secure, up-to-date devices, with the latest software, enables staff to do more

Relieve helpdesks

: Fewer calls into the helpdesk as predictive analytics (HP devices only) address issues before they occur

Security

: With the latest updates installed security vulnerabilities are reduced

Engage end-users

: Access to new and high-performing technology pleases employees, helping talent acquisition and retention

Gain insights

: Better visibility of device procurement, management and usage provides valuable business intelligence
For many enterprises, DaaS provides a compelling technology solution, freeing up internal IT teams and helping them work smarter and more effectively. It also means employees get access to the latest devices, with the best functionality, enabling them to work in more productive ways.
Rajiv Narayan, Product Manager – Managed Workplace Services at CDW.
For more information contact: info@uk.cdw.com | 020 7791 6000