The attractive economics of cloud services have driven a huge rise in adoption. Gartner puts the market size and growth of the cloud services industry at nearly three times the growth of overall IT services through 2022.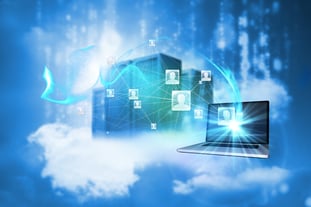 By sidestepping the need for upfront investment in IT hardware, the cloud can provide significant cost efficiencies across the organisation, without the overheads and staffing demands associated with running on-premise IT.
But the business advantages of cloud mastery go beyond budgeting considerations. The agility of the cloud also means organisations can react faster to economic conditions or customer demands, no longer limited by the confines of legacy IT.
By promoting collaboration and accelerating the development of new services and applications, cloud can reduce time-to-market and improve customer service.
Hybrid cloud is an increasingly popular option that recognises some workloads and applications are better suited to a mix of cloud services and on-premise IT.
Making the case for multicloud
However, hybrid cloud is now being augmented with an approach known as multicloud, which incorporates multiple cloud computing and storage services in a single distributed architecture.
A key business benefit is that organisations can take advantage of best-in-class services across different cloud providers. They have the freedom to choose their cloud provider based on workload requirements and the cloud provider's offering. This approach can also reduce risk or cost to an organisation, as well as avoiding vendor lock-in.
"As cloud continues to become mainstream within most organisations, technology product managers for cloud related service offerings will need to focus on delivering solutions that combine experience and execution with hyperscale providers' offerings. This complementary approach will drive both transformation and optimisation of an organisation's infrastructure and operations," notes Gartner.
An integrated experience
A hybrid multicloud experience provides more than a simple migration of data to the cloud. A well-executed hybrid multicloud strategy that provides a common, integrated experience across multiple public cloud and private cloud environments can generate many competitive advantages. It makes it easier to track end-user consumption of IT resources across multiple clouds, often including self-service, as well as meet the disparate needs of the organisation quickly and efficiently.
How to become a 'data thriver'
Working together, NetApp and CDW are helping organisations leverage hybrid multicloud strategies in order to become 'data thrivers' through the creation of data-driven applications.
Intelligent, data-driven applications transform businesses and bring customers closer. These applications incorporate the new data they generate to continuously enrich the user experience.
Key characteristics of data thrivers
• Data is considered a strategic asset
• IT and business work in unison
• Data quality is priority one
• Data is disseminated uniformly throughout the organization
• Data maps provide visibility and control
• Insights span a range of systems, including development, test, quality assurance and production
To thrive, the entire company must recognise the critical importance of data. It is incumbent upon the IT team to create an environment in which data is securely stored, reliably managed and accessible across data centres and the cloud.
Simply fastening public cloud to traditional IT does not add up to a fully functioning cloud environment. Integration is difficult because traditional infrastructure is plagued by complex architecture with silos dedicated to individual applications.
Meeting today's enterprise needs
With NetApp HCI, CDW takes hybrid cloud infrastructure beyond on-premises consolidation and virtualization, adding deep automation and integrating private cloud and public cloud resources that enable data to flow where it is needed.
The result is a more flexible environment that meets the demands of business stakeholders, end users, and developers and enables companies to rapidly develop, deploy, execute, and protect next-generation, data-centric applications. The foundation for this hybrid cloud infrastructure success is an effective private cloud platform built on modern infrastructure that reduces data centre complexity and technical debt, facilitates automation, simplifies data management, and brings to life the agility of the public cloud.
A vision that promotes innovation
Business leaders need to be persuaded that public cloud by itself is not the answer, while financial departments who view IT as a cost centre are likely to push back on proposals for new investment.
Change cannot happen without a clear vision backed by a thorough business plan. An advantage of NetApp HCI is that businesses can start small and incrementally grow compute and storage resources quickly according to needs and budget constraints. Under this model, existing infrastructure silos ultimately become obsolete. The centralised integration and management of NetApp HCI reduces administrative burden, freeing staff from daily requests and enabling them to focus on innovation projects that advance the business.
CLICK HERE to download our FREE infographic and learn more about managing hybrid multi cloud with CDW and NetApp or contact us.