The rapid evolution of cloud technology has left some enterprise IT leaders struggling to keep up with the options available – let alone how to absorb the latest infrastructure innovations into their existing data centre arrangements.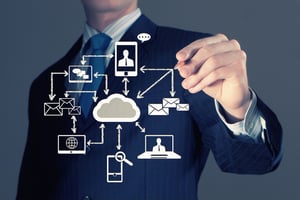 A 2018 Cloud Industry Forum (CIF) report confirms that UK-based businesses are now spending more on cloud infrastructure than they are on on-premise IT. CIF notes that this gap is set to widen significantly over the next few years as organisations decommission their legacy IT and ramp up investments in next generation technologies.
The reasons for the shift are well documented. With no upfront investment in IT hardware, the cloud can provide significant cost efficiencies across the organisation, with none of the ongoing operational or maintenance costs associated with on-premise IT.
In addition, cloud enables organisations to scale their IT in line with their business needs. The cloud also allows dispersed groups of people to work collaboratively, sharing information in real time via shared applications. This not only unlocks team members from the restrictions of office-based IT, but it can reduce time-to-market, accelerate product development and improve customer service. As such, the cloud is underpinning many organisations' digital transformation strategies.
Navigating the options
However, the evolution of cloud means organisations now face an often confusing choice of approaches and service delivery models including hybrid cloud, public cloud, private cloud, multi-cloud and cloud-first.
The most appealing option for most organisations is a hybrid cloud approach. This recognises that some workloads and applications are better suited to a mix of cloud services and on-premise IT – combining on-premise infrastructure, along with elements of public and private cloud.
Building on hybrid cloud there is now multicloud, an approach which is currently gaining traction within the enterprise. Multicloud encompasses multiple cloud computing and storage services in a single distributed architecture. Multicloud also refers to the distribution of cloud assets, software, and applications across several cloud environments, using any combination of cloud computing platforms.
Multicloud can include multiple public cloud providers, on-premise environments, private cloud infrastructure with a public cloud provider, or a combination of both approaches – whichever suits the customer's need the best.
Welcome to hybrid multi-cloud
There are many benefits to adopting a hybrid multi-cloud approach – most notably organisations can take advantage of best-in-class services across different cloud providers. They have the freedom to choose their cloud provider based on workload requirements and the cloud provider's offering. This approach can also reduce risk or cost to an organisation, as well as avoiding vendor lock-in.
In one report, Gartner predicts that multicloud will be the common strategy for 70 percent of enterprises by the end of 2019.
But as we've seen, this ever-expanding choice of platforms and vendors can also mean new levels of complexity for the enterprise when it comes to orchestrating, optimising and managing their workloads in the cloud. This may be the reason that – despite the benefits – only a small number of European organisations to date have reportedly taken sufficient steps toward establishing a fully-fledged multicloud strategy, according to IDC.
Introducing a new orchestration model
Orchestrating different architecture platforms to run reliably, cost-effectively and seamlessly is essential. In partnership, CDW and NetApp are dedicated to eradicating complexity and helping organisations derive the best performance and value from their multiple infrastructure arrangements.
NetApp's Hybrid Cloud Infrastructure (HCI) provides solutions that serve as the foundation for a new cloud consumption model – one that lets you access a virtually unlimited choice of public and private cloud data services to meet the specific needs of any workload and application.
Cloud is now the foundation upon which many organisations' modern IT architecture is built. But as we've seen, in 2019 there is no 'one-cloud-fits-all' approach. Enterprises are demanding access to the best-in-class microservices with new clouds, new services, and new opportunities. It's therefore imperative that customers have a Data Fabric that enables choice and connectivity across all cloud providers.
Accelerating business advantage
This is because in today's disruptive business landscape, only those organisations that combine cloud environments with a full breadth of enterprise capabilities will gain a competitive advantage. That advantage comes with delivering a hybrid multi-cloud experience based on frictionless consumption, self-service, automation, programmable APIs, and infrastructure independence. It enables them to thrive with data.
Ultimately, adopting a hybrid multi-cloud approach can not only accelerate digital transformation, but it leaves organisations free to pivot and to react in real-time to any business challenges they face.
CLICK HERE to download our FREE infographic and learn more about managing hybrid multi-cloud with CDW and NetApp or contact us